Supersport is investigating Ashwin Willemse's on air walk out in protest against fellow rugby analysts Nick Mallett and Naas Botha, but in the interim the Minister of Sport and Recreation Tokozile Xasa wants the veteran SuperSport duo suspended.
Willemse accused Mallett and Botha of patronising him because of his skin colour.
The Sports Minister, in a statement to the media, said:
"This behaviour of entitlement by some white South Africans who continue to think that their whiteness represent better must come to an end, if it was not for a barbaric nonsensical apartheid system that privileged them we could not have implemented quota system to normalize an otherwise abnormal system.
"Willemse is not just a former Springbok player but in 2003 he was named SA Rugby Player of the Year, Young Player of the Year and the Player's Player of the Year. Players like Willemse, (Bryan) Habana and (Siya) Kolisi continue to make us proud as a nation and affirm that they are not token players or quota players.
"The department of Sport & Recreation through its transformation charter that was adopted in 2011 noted that quota system has been largely unsuccessful in bringing about an effectively transformed sport system and is causing substantial consequential damage for many black players who were labelled as 'tokens', and referred to as mere replacement of white face with a black face.
"It is clear that Ashwin Willemse was referred as a quota player by his fellow panelists despite his many successes in the field of play, I call upon SuperSport to suspend the two panelists while they are busy with full investigation.
The continued appearance of Mallett and Botha will be seen as an endorsement of their alleged racist behaviour."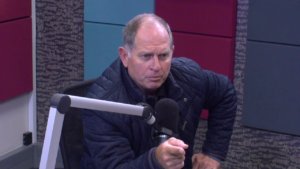 Willemse, before his walk out, confronted Mallett and Botha and said: "I've been in the game for a long time like most of us here. As a player, I've been called a quota for a long time and I've worked very hard to earn the respect I have now. I'm not going to sit here and be patronised by these two individuals (Mallett and Botha) who played their rugby during the apartheid era, a segregated era."
Willemse went on to say he "can't work with people who undermine other people" and that he was "glad it happened on live TV so that people can see".
Willemse played for the Springboks between 2003 and 2007 and was a member of the 2007 World Cup winning squad.